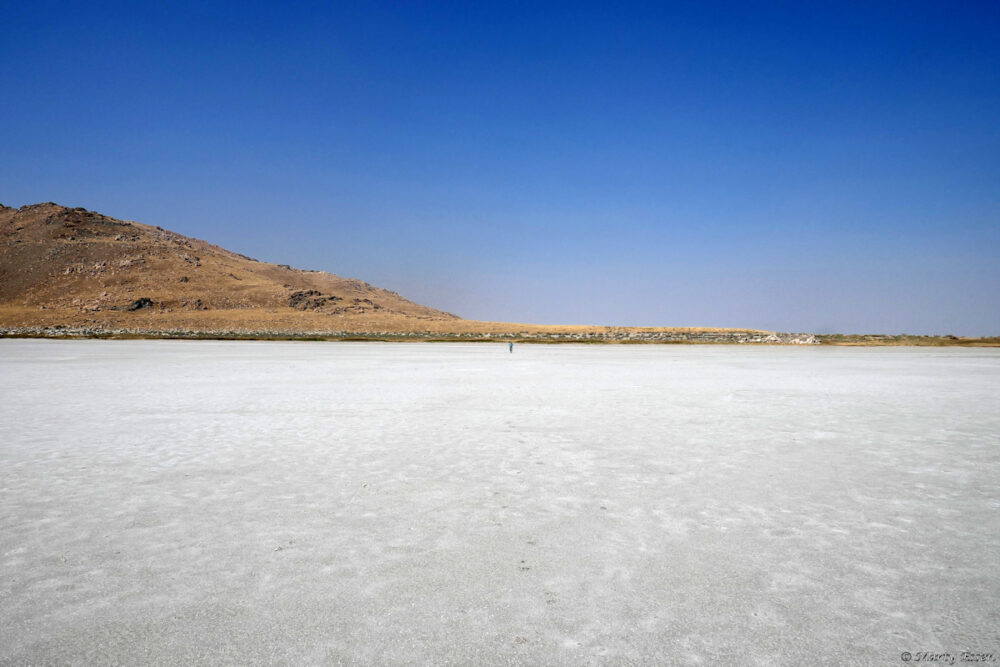 Marty's photo of the day #4097: Today I'm going to rip Republicans a new one. Deb and I have visited Antelope Island, located a little outside of Salt Lake City, twice. Both visits were in conjunction with concerts. The first was in late August 2016, as an add-on adventure after seeing Joan Jett; the second was three weeks ago, as an add-on adventure after seeing Evanescence.
During our first visit, one of the highlights was the thousands of shorebirds in the water along the causeway just before reaching the island. We spent hours watching them. Our second visit made us feel sick to our stomachs, because all the water where we saw the birds six years earlier was gone!
In fact, Antelope Island is now surrounded by dry lake bottom. Later, when we hiked out to the southern tip of the island, the lack of water in the Great Salt Lake was even more shocking. I took this photo of Antelope Island, after walking more than one hundred yards out on dry lake bottom that had been covered with water in 2016. For perspective, if you look closely, you can see Deb walking toward me. And, get this, I could have walked another fifty yards out before running into a fence, which had to be installed to keep the bison, antelope, deer, coyotes, and other animals from escaping the island and walking into Salt Lake City!
During our hike, I stopped to talk with two men—obviously Republicans—and asked, "How can Utah keep electing anti-environmental politicians, like Senator Mitt Romney, when they see climate change drying up their own lake?"
One of the Republicans shrugged and said, "The climate is always changing."
Yeah, the standard bullshit Republican answer!
I admit that there are multiple reasons for the Great Salt Lake drying up, but even those—such as irresponsible use of the water that feeds the lake—are still human-caused.
So, anyway, I still love Antelope Island, but that Republicans can't see what's happening before their eyes just burns me up. (Not to mislead—there is still water in deeper sections of the lake.)
A programming note: I'm tentatively booked on an on-line television show with a former Air America host to discuss both what I saw at Antelope Island and my new book, Doctor Refurb. I will announce that booking when it is firm. And I know what you are thinking, so I will say that the former Air America host—while definitely one of the great ones—is not Rachel Maddow.