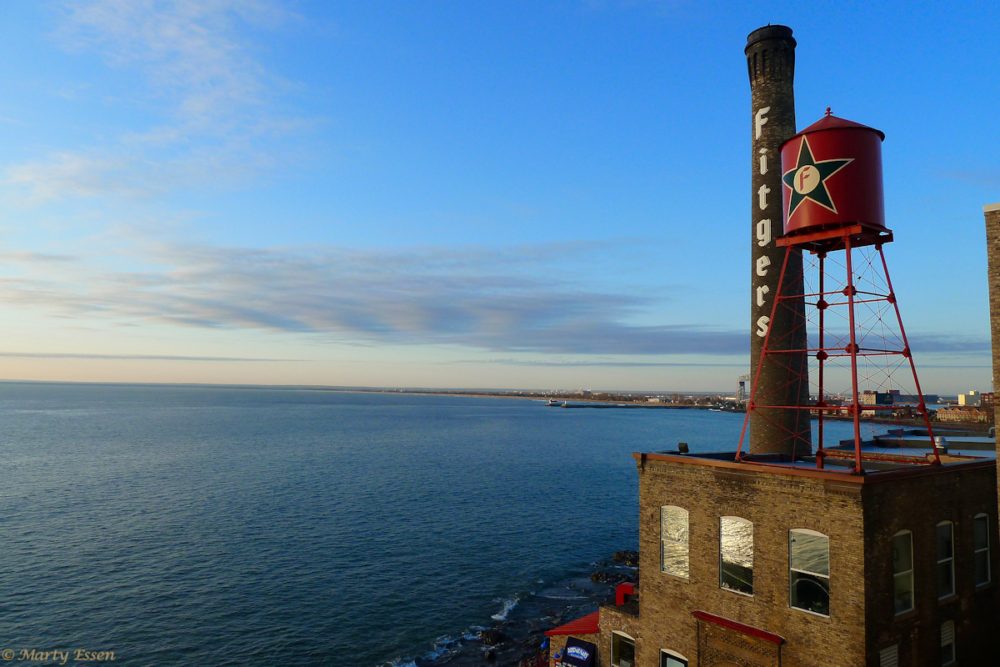 Marty's photo of the day #3616: If you've read either Time Is Irreverent or Hits, Heathens, and Hippos: Stories from an Agent, Activist, and Adventurer, you know a little about Fitger's. The historic Duluth landmark used to be the Fitger Brewing Company, but now it is a boutique hotel, a bookstore, and a collection of restaurants and shops. In 2012, I returned to my hometown to perform a show at the University of Minnesota Duluth, and my alma mater gave me the red carpet treatment, complete with a luxury rental car and a three-night stay in the Fitger's Inn penthouse suite. I took this photo, overlooking Lake Superior and Park Point, from the balcony of that suite.
In the first novel of my Time Is Irreverent series, protagonists Marty Mann and Nellie Dixon have a very emotional stay in the same suite, in the year 2056, and in my nonfiction, Hits, Heathens, and Hippos, Fitger's makes my book in my "Adventures in College Speaking" chapter.
Why am I featuring Fitger's today? Deb and I are returning to Minnesota for several days at the end of June for two funerals for Deb's father (one in Annandale and one in Willmar). Between funerals, I'm going to head up to Duluth to do a book signing and an abbreviated show at Fitger's. The presentation will be for the bookstore and will take place in the Fitger's Spirit of the North Theatre. Showtime is 7:00 p.m. on Saturday night, June 26, and admission is free.
There is just one problem. Duluth is famous for its freezing winters but amazing during the summer, and the weekend of June 26 features an air show and other events. Not only is Fitger's Inn sold out, so is every other hotel, motel, and B&B within a 60-mile radius. I spent hours trying to find a room with no luck. Then, yesterday, a Motel 6 announced they had two available rooms—at $200 each! No fucking way am I spending $200 for a Motel 6!
So I still don't know where I'm going to stay. If worse comes to worse, I will do my show, drink some coffee, and drive the three hours back to my mother-in-law's house in Annandale.
If you are in or near the beautiful city of Duluth on June 26th, come see me in the Spirit of the North Theatre at 7:00 p.m.!