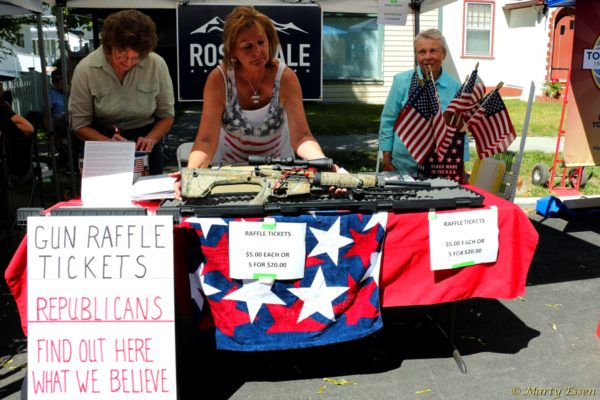 Marty's photo of the day #2591: Yesterday I went to the Farmer's Market and stopped at the Ravalli County Republican Central Committee booth to photograph the assault rifle they were raffling off. I approached as if I were one of their cult, and even got this lady to hold up the gun for me. I'm sure their raffle will be a huge success, because here in one of Montana's most far-right counties, microphallic compensation tools are in demand.
I don't know much about guns, but I know that when someone asserts that assault rifles are for hunting, they do so with a wink. With that in mind, I'd like to ask the RCRCC: If the winner of your raffle uses the gun to shoot-up a school, a concert, or an abortion clinic, will your leaders adhere to your "party of personal responsibility" slogan and plead guilty as accessories?
What am I saying? Republicans have already made their feelings clear by how they reacted to past domestic terrorist attacks: 1) They think guns are more important than human lives. 2) They eliminate responsibility and guilt by tossing out a few thoughts and prayers. 3) They head to the gun store and buy, buy, buy!