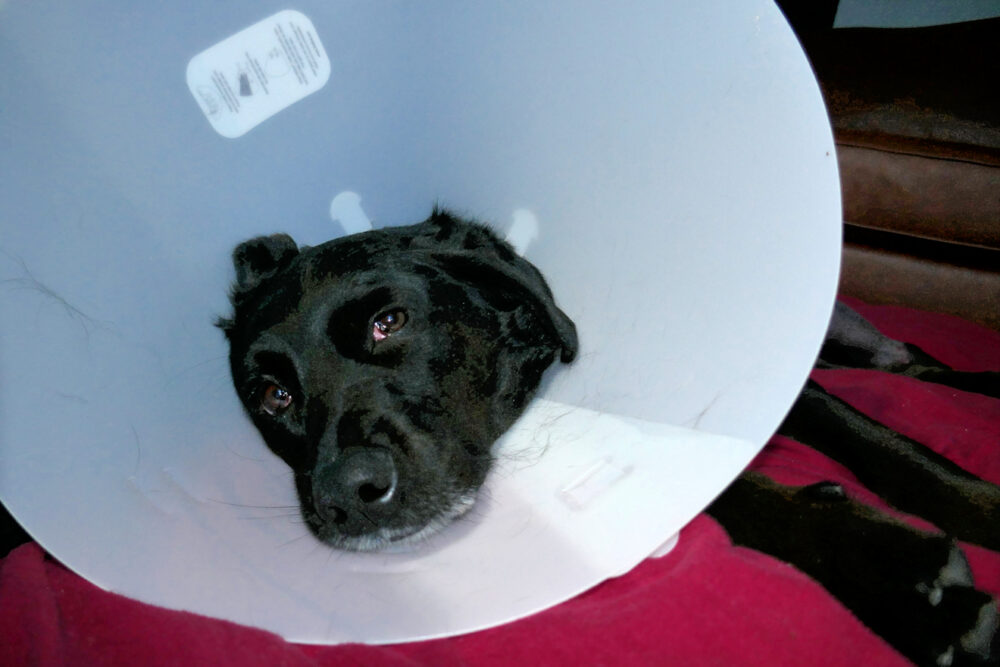 Marty's photos of the day #4563: Nellie's recovery from TPLO (Doggy Tommy John) surgery on her left-rear leg—Day #2.
Nellie is such a trooper! Last night Deb and I slept with Nellie on a mattress on the floor of our great room (something will be doing for the next eight-to-twelve weeks). The mattress is much smaller than the king sized bed we have on the third floor in our bedroom, so there was a bit of an adjustment. Nellie normally sleeps (sideways to take up the maximum amount of space) at the foot of our bed, but last night she had to be right between us. Deb ended up sleeping half on the hardwood floor and half on the mattress much of the night. Even so, the night went better than expected.
Since Nellie will have to wear a white cone for two weeks, I went on-line and bought two additional cone-type products that are supposed to be less cumbersome. They will arrive on Monday, so maybe then I'll post a Nellie fashion show.
I was telling Deb this morning that it's a good thing we are both self-employed and work out of the house. Making sure Nellie gets her pain pills at the right time, carrying her up and down the outside steps to go to the bathroom, doing physical therapy on her leg, icing her leg, holding her food and water up so she can easily get to it while wearing a cone, and basically being Nellie's constant servant takes time. But we are happy to do it.
Yesterday the veterinarian told Deb and me horror stories about people who would take their dogs right out of TPLO surgery and put them in the back of their pickup trucks! One man was even letting his dog jump out of the back of the pickup right after surgery. Fucking rednecks like that make me so angry! But this is Montana, and nothing the goobers do here surprises me. But wouldn't you think a $3300 vet bill for TPLO surgery would provide some incentive?