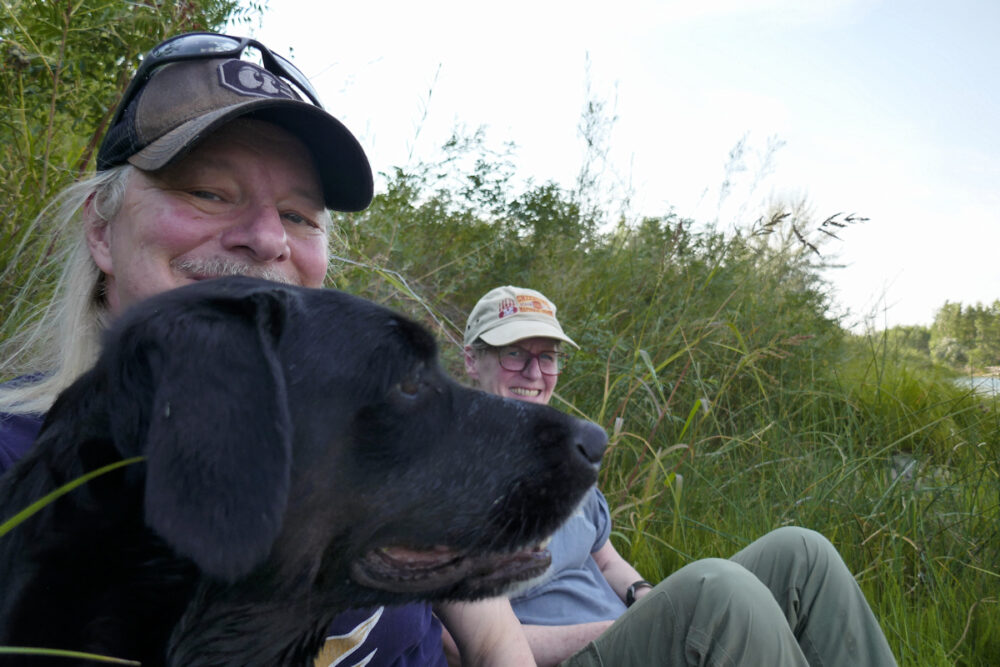 Marty's photo of the day #4080: Deb, Nellie, and I have returned home from the first six days of our nine-day vacation. We spent the previous days at the American Prairie Reserve (now officially known as just American Prairie) in central Montana. This was our second consecutive year renting a yurt there. The yurt sits among huge cottonwood trees a short distance from the Judith River. With no phone, no internet, no running water, and limited electricity (via two solar panels), it was wonderful!
Each day, the three of us hiked the prairie in the morning—while the weather was cool—returned to the yurt for lunch and a few hours of reading, relaxed on the bank of the Judith River (where I shot this photo), embarked on a shorter hike, followed by a night drive to spot coyotes, night birds, mule deer, and elk, and concluded with drinks and star gazing.
Nellie had the time of her life and was exhausted by the end of each day. The only negative was that on the way home yesterday we stopped at a stream along Highway 200, so Nellie could stretch her legs and get a drink. After returning to the car, I commented to Deb about how depressed Nellie looked, now that we had left the prairie.
I learned the reason for her depression once we made it home and were unloading the car. Nellie had a fish hook deep inside her right front leg! She had snagged the fish hook at the Highway 200 creek. We tried to remove the barbed hook, but there was no way Nellie was going to stay still enough for us to dislodge it. Deb then called the vet, who was just leaving for the day, and convinced her to wait for us. I raced us to the vet, as if I had a pregnant woman next to me, ready to give birth.
The three of us still couldn't hold Nellie still enough to remove the hook—she is amazingly strong—so the vet had to put her under. Even that was difficult, because Nellie fought the anesthesia, but eventually she fell asleep. Having stayed by the side of elderly dogs we had to put to sleep over the years, watching the process kind of freaked me out. I knew Nellie was going to wake up, but I still made the vet check Nellie's vitals multiple times to make sure she was, indeed, still alive.
This morning, Nellie is back to her old happy self and doesn't seem to notice the big bruise on her leg where the fish hook was embedded. Yay!
I will have plenty of stories and some really cool photos to share, but I'm holding most of them until next week. That's because we are only home (in the Bitterroot Valley of Montana) for two days before going on the second leg of our vacation. For that, we are driving to Utah to explore Antelope Island and see Evanescence in concert at the USANA Amphitheatre in Salt Lake City. Evanescence is one of the few bands left on my must see bucket list. Unfortunately, concerts are too loud for dogs, so Nellie won't be able to come—though she says she's a huge Amy Lee fan!