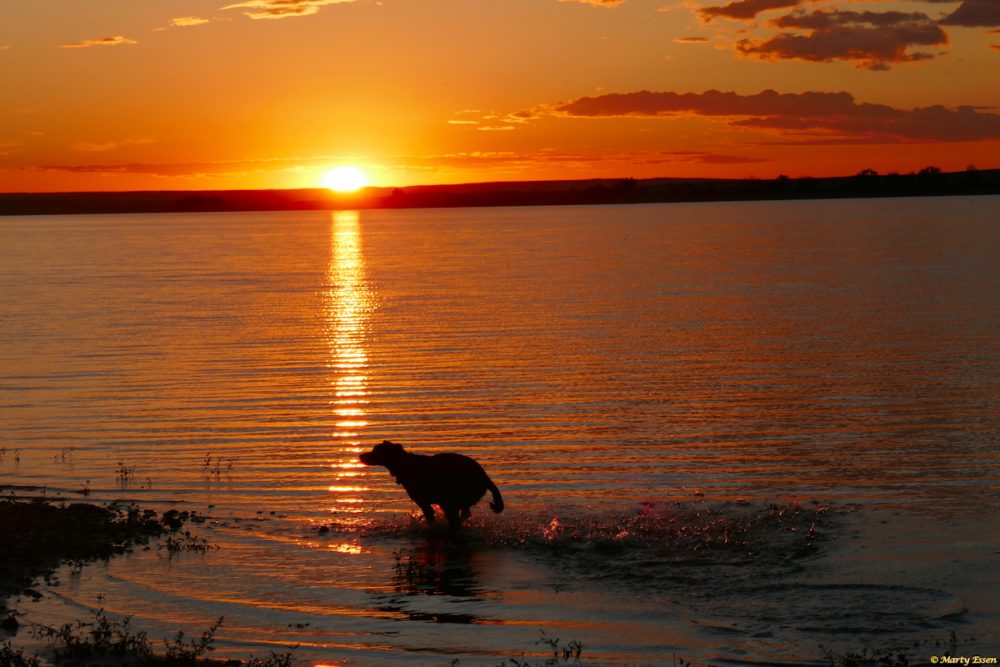 Marty's photo of the day #3789: A little over a week ago, I posted a photo of Nellie playing in the water at sunset. At the time, I had two photos to choose from. Today, I am posting the photo I hadn't selected for the original post. I'm also reposting the story below:
We adopted Nellie from an animal shelter a little over a year ago. At the time she was about nine months old. Since Deb and I live in the mountains of the Bitterroot Valley, there aren't any lakes nearby. So last month when Nellie joined us on the trip to the American Prairie Reserve, we were looking forward to giving Nellie what could be her first lake experience. First we took her to Lake Bowdoin in northeastern Montana (see yesterday's post), but the lake was dry. With just a little daylight left, we traveled an additional fifteen miles to the Nelson Reservoir.
A DNA test confirms Nellie as one-half Australian cattle dog and one-half golden retriever. The conflicting temperaments of those breeds give Nellie the most unique personality of any dog we've ever had. She actually has a sense of humor that is more well-developed than many humans we know. We just adore her.
As for the photo: Nellie's mixed personalities made her first lake experience unforgettable. The golden retriever in her wanted to go swimming, and the Australian cattle dog in her thought swimming was way overrated. Her compromise was to run full-blast in the shallow water, splashing as much as possible. Both sides of her thought it was hilarious. A stunning sunset added to the moment.