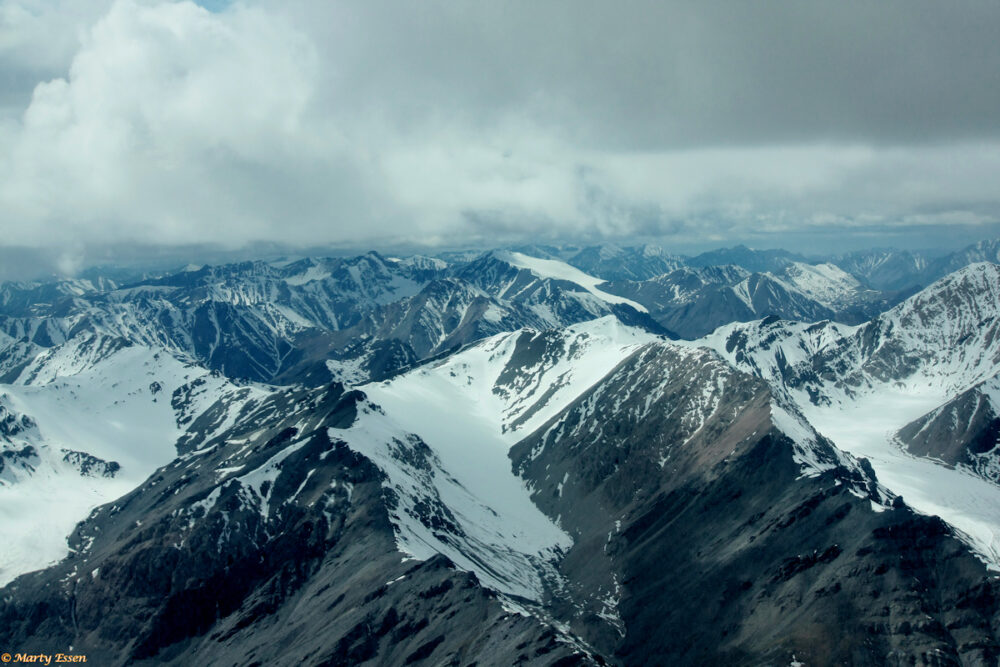 Marty's photo of the day #4238: I shot this photo from the co-pilot's seat of a tiny airplane (called a Helio), heading north over the Brooks Range, on the way to the Arctic National Wildlife Refuge. This short excerpt, from my second book, Endangered Edens: Exploring the Arctic National Wildlife Refuge, Costa Rica, the Everglades, and Puerto Rico, explains this out-of-the-ordinary flight:
Alaska averages one hundred small airplane accidents and eight fatalities per year, easily leading the nation. Even though flying usually doesn't bother me, I felt a bit apprehensive about our upcoming flight to the Arctic Refuge. Not only would we be in a tiny single-engine airplane, but we would also have to fly over the Brooks Range and land on the tundra.
When our turn came, I took the seat next to the pilot, Ken, and he handed me a headset, so I could listen to any pilot-to-pilot communications. Once we were in the air, the scenery was amazing. First, we flew up a river valley. Then, we started over the mountains.
Deb proclaimed, "This is the best in-flight movie ever!"
Eventually Ken spotted the other Helio, which was returning from the refuge, and radioed the pilot for a report.
"I almost ran out of engine over the mountains," said the pilot.
"What does that mean?" I asked.
"The wind coming off the ocean was in his face, and he had to fight to keep his airplane from stalling," said Ken.
I tightened my seatbelt and tried not to squeeze the armrest too hard.
Our Helio made it over the tall peaks of the Brooks Range without incident, and the scenery changed to the massive glaciers that feed the rivers, which drop out of the mountains, cross the coastal plain, and dump into the Arctic Ocean. Eventually Ken pointed out the Jago River and piloted us toward the landing area near our first campsite.
I say landing area, because we were simply landing on a flat section of ground. Our Helio, however, was equipped with special balloon tires to assist in the task and minimize damage to the tundra.