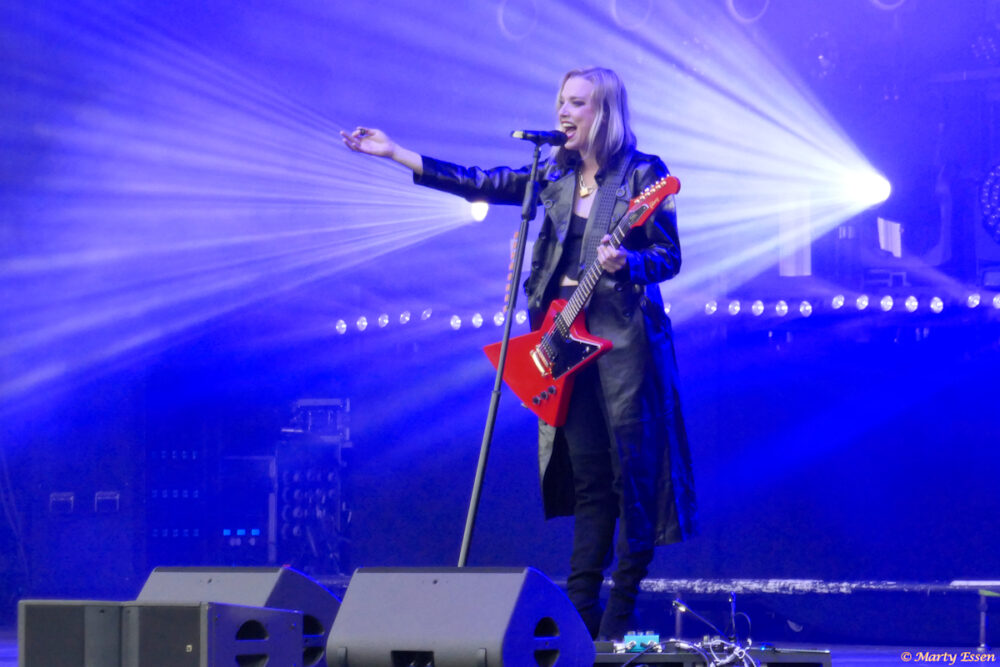 Marty's photo of the day #3996: Wow! Having grown up in the music business—first as a disc jockey and then as a talent manager—music has always been an important part of my life. Throughout the years, I've seen many great concerts, from Bruce Springsteen to the Rolling Stones to the Pretenders (original band) to Within Temptation to Grace Potter to Melissa Etheridge. Because memories fade, it's virtually impossible to say which concert was the absolute best. Even so, I can say with confidence that last night's Halestorm concert ranked among the top three.
The setting was perfect—second row seats, outdoors at the KettleHouse Amphitheater, near Missoula. Both opening acts (The Stone Temple Pilots and Blackstone Cherry) had to cancel at the last moment due to positive COVID-19 tests, leaving Halestorm to fill the entire night by themselves. To do that, Halestorm became their own opening act, performing an extra set of songs—many that they haven't played for years—and even a cover of Whitney Houston's "I Will Always Love You" that absolutely blew away the original version.
Then they took a short break, cranked up the lights and volume and performed their usual show. You could tell that the band really loved the beautiful KettleHouse Amphitheater and the opportunity to stretch their legs and perform a once-in-a-lifetime concert.
If you haven't heard of Halestorm, that's because they didn't make it by having hits on the radio. Instead, they made it the old fashioned way, by playing 250 shows-a-year for much of the past 25 years. Whether they are the best rock 'n' roll band in America at this moment can be debated, but no band works harder than they do.
This photo: Lzzy Hale of Halestorm, May 30, 2022, at the KettleHouse Amphitheater.