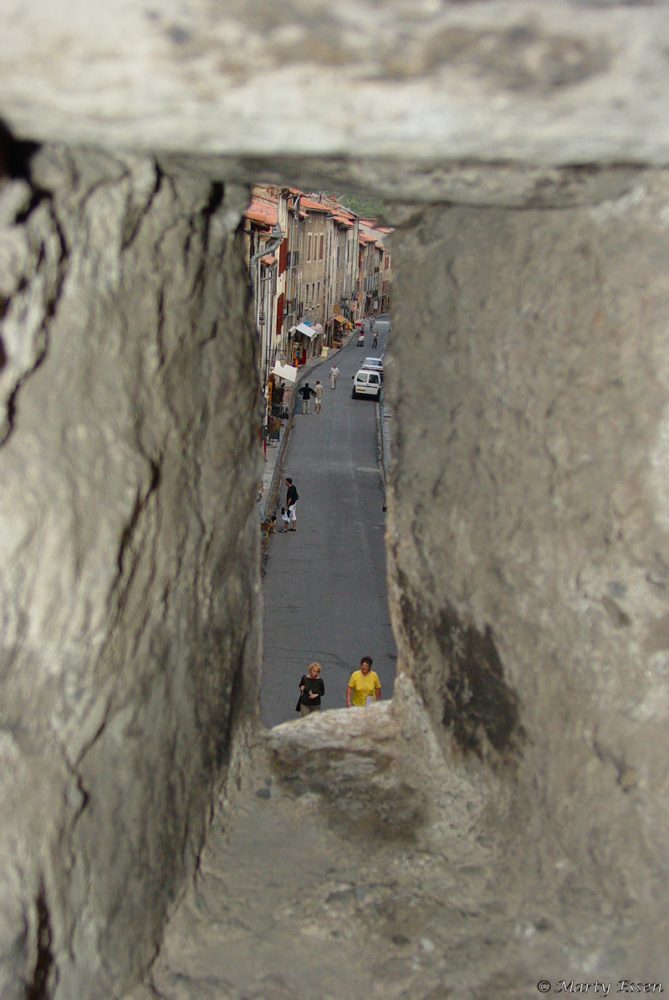 Marty's photo of the day #3710: Let's take a peek through the wall of an ancient walled city in France. The following excerpt from my first book, Cool Creatures, Hot Planet: Exploring the Seven Continents, further explains what you are seeing:
We retrieved our car, drove back into France, and spent the rest of Sunday and much of Monday heading south. While our European trip wasn't providing us with as many wildlife-viewing opportunities as we had hoped for, interesting historical places were filling the void. On Monday afternoon, just when we were getting road weary, we happened upon the walled city of Villefranche de Conflent.
Located thirty-five miles west of the Mediterranean Sea and twelve miles north of the Spanish border, Villefranche de Conflent dates back to the year 1092. Despite being so old, much of the city's original architecture remains intact because the pink marble the Count of Cerdagne used to build it has resisted deterioration.
We walked through the city's main gate. Unlike the ancient structures we had visited previously, people still occupied this one. The majority of the buildings featured craft shops on the ground floor and living quarters on the upper floors. Admittance to the courtyard and shops was free, but if we wanted to get inside the ramparts and towers it would cost us a few euros.
Deb and I couldn't resist the opportunity to explore such a well-preserved site and gladly paid the fee. Once inside, we roamed the passages within the walls surrounding the three-block-long city. While the courtyard was busy with shoppers, we saw only one other person inside the walls.
Having unsupervised access gave us time to find a hidden staircase to a tower and an entrance to a cellar that looked like it hadn't been opened in years. As we inspected the battlements, walked the tunnels, and peered through the loops, I felt like an archaeologist in a recently discovered city. Where did they hide the torture chamber anyway?
A still-active Catholic church was also part of the city. We stepped into the sanctuary and looked around. You don't have to be religious to appreciate old European churches. With antique paintings and sculptures at every turn, they're often more interesting than traditional art galleries. Artwork highlights in this church included a reredos by renowned Catalan sculptor Joseph Sunyer and a fourteenth-century life-size wooden effigy of Christ.
We wrapped up our visit with some shopping. Deb's forty-fifth birthday was one day away, and she wanted her presents early. As has become our tradition, she made my shopping easy by picking out what she wanted and letting me pay for it. I mention this because the store proprietor, who didn't speak English, immediately understood the Happy Birthday Song when I sang it to Deb after she selected an elegant Provence tablecloth. When Deb picked up the matching cloth napkins, he flashed a big smile in my direction and asked, "Happy birthday to you?" By the time Deb finished adding to her presents, the proprietor was at least as happy as she was.