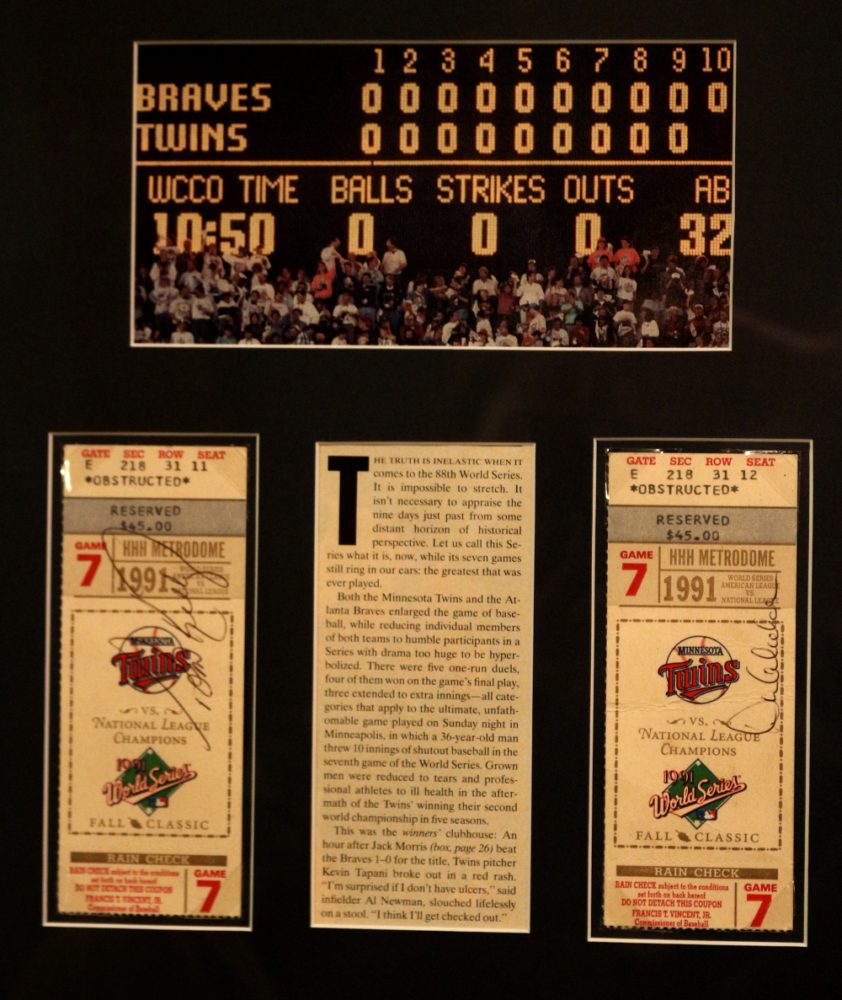 Marty's photo of the day #3032: In honor of the Minnesota Twins being back in the playoffs tonight (vs. the dreaded Yankees), I thought I'd share one of my favorite Twins stories. Deb and I were living in Minneapolis in 1991, and we scored last-minute tickets to the most exciting World Series game ever played: Jack Morris pitching the Twins to a 10 inning, 1 to 0, Game Seven win over the Atlanta Braves.
But my story takes place in 2002. The Twins were in danger of becoming contracted from Major League Baseball, and with the possibility of it being the last Twins season ever, Deb and I headed to Florida for Spring Training. Since my dad also lived in Florida, it was an opportunity to see him as well.
Deb and I brought our World Series tickets along, and we each had an assignment: I was going to get mine signed by Tom Kelly (the manager of the World Series team) and Deb was going to get hers signed by Dan Gladden (who scored the winning run in that epic game). Getting my ticket signed was easy. I just waited for a break in a practice, and called to Tom Kelly through the fence.
Deb's assignment was tougher, because Dan Gladden had retired and was now a Twins' radio announcer. Our only chance to catch him was at night after a Spring Training Game. So Deb, my dad, and I attended a game, and afterwards, Deb talked her way into a locked area that led to the only way Gladden could exit the stadium. While she did that, my dad and I retrieved the car and pulled up next to where Deb had snuck inside.
Minutes later, Deb comes walking out of the stadium chatting away with Dan Gladden! When Gladden saw us, he came right up to the car to introduce himself, and I stepped out to shake his hand. He was the nicest guy, and he was obviously touched that we had remembered him and had gone to such lengths to have him sign the ticket. He even looked at the seat number to figure out exactly where we were sitting.
At that moment it became apparent that all we had to do is ask, and Gladden would have gone with us to have a beer. Normally, this would have been fun, but my dad was with us—a terrifying thought!
Ever since I was a kid, and my dad "found Jesus," he had been embarrassing me with public displays of his religion. Yes, he would pray aloud in restaurants and engage in conversations with strangers that would inevitably lead to him asking, "Have you found Jesus?"
There was no way we could risk going to a pub with Dan Gladden and having my dad put him (and us) in an awkward "Have you found Jesus?" corner. So we resisted the temptation and just said goodbye.
Even so, it was an experience we'll never forget, and our signed tickets are framed in a place of honor. As for tonight, this baseball season has already been a blast. Today's Twins team has so much personality, and they set the all-time record for home runs (307) in a season. The Yankees are goin' down!