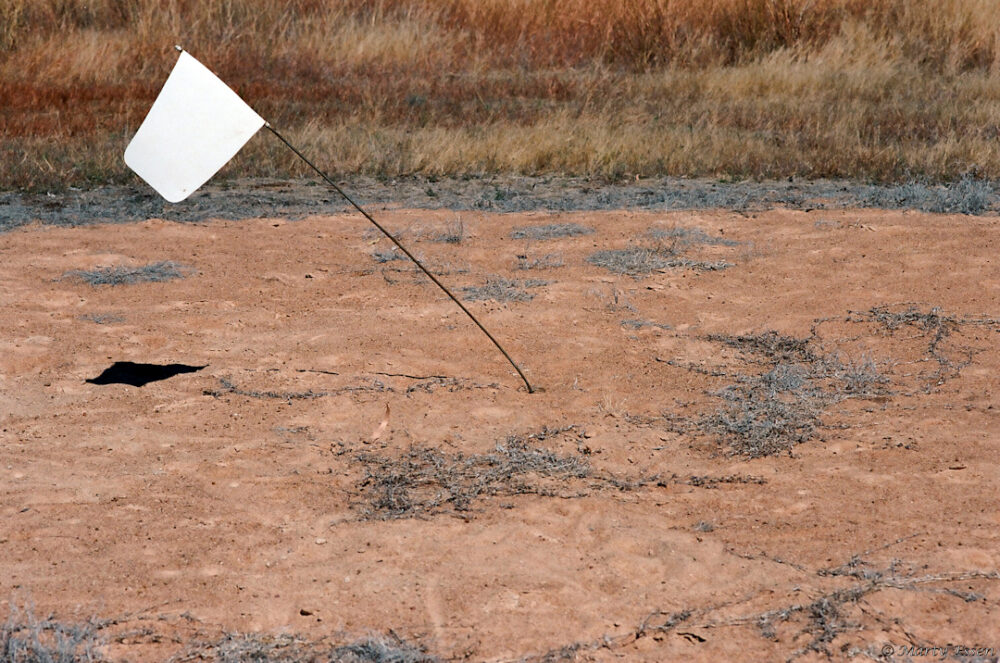 Marty's photo of the day #4496: A short excerpt from the Australia chapter in my first book, Cool Creatures, Hot Planet: Exploring the Seven Continents, explains this photo:
A few of the caves had entrances large enough for a human to squeeze through. Reaching the small chambers, however, would have required dropping through layers of spider webs and risking getting stuck. Rather than do that, we continued exploring aboveground and eventually looped down to the Chillagoe Golf Course.
I'm not a fan of golf, because most courses represent a tremendous waste of land and water. Even worse are the chemicals many groundskeepers use to keep their grass "healthy." Consequently, if I ever had to find a deformed frog, a golf course would be the first place I'd look.
On the other hand, if all golf courses were like Chillagoe's I'd change my mind about the game. No water was wasted here—everything was bone-dry. The greens were packed sand, the fairways were rarely mowed spear grass, and the rough was never-mowed spear grass.
People often refer to golf as a "sport." In my mind, for a game to be considered a sport, at some point you have to run. The Chillagoe course could elevate golf to sport status. I can see Tiger Woods now, wading through the tall grass, hitting his ball, and disturbing a large king brown snake. I bet he'd run.
Incidentally, play at the Chillagoe Golf Course was free. I saw no evidence of recent use, however. Who could afford to replace all the lost balls?