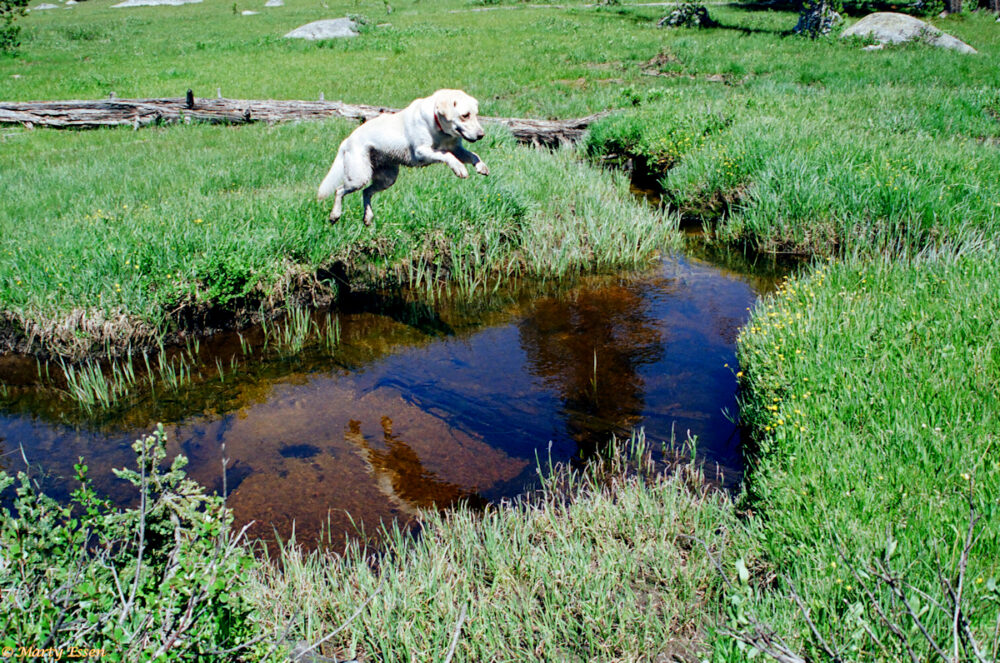 Marty's photo of the day #4256: This is Annie. And yes, her jump was successful! She was an adoptee from an animal shelter. I still remember the day Deb and I brought her home. Annie was approximately two years old, nervous, and unsure of herself. The hallway to our bedroom overlooks the great room. It's quite a drop to the great room floor, but a railing and protective slats make the hallway safe for all. Nevertheless, the drop made Annie so nervous that she crawled the entire length of the hallway to our bedroom on that first night.
Annie was one of those dogs that could clearly tell you her pre-adoption story. She didn't like to fetch, she didn't like to swim, and for years she would cringe whenever someone picked up a stick. It was obvious: her previous owner was a bird hunter who beat her when she wouldn't fetch the birds he shot.
From that beginning, Annie blossomed into a confident dog who wasn't afraid of anything. And she was the sweetest dog I've ever had, living with Deb and me for nine years.
Annie played a huge part in my first book, Cool Creatures, Hot Planet: Exploring the Seven Continents. Not only was she the star of the Canada chapter, but she was also by my side for the entire twelve thousand hours it took me to write the book. She died of cancer on the day I finished the manuscript, and I dedicated Cool Creatures, Hot Planet to her.