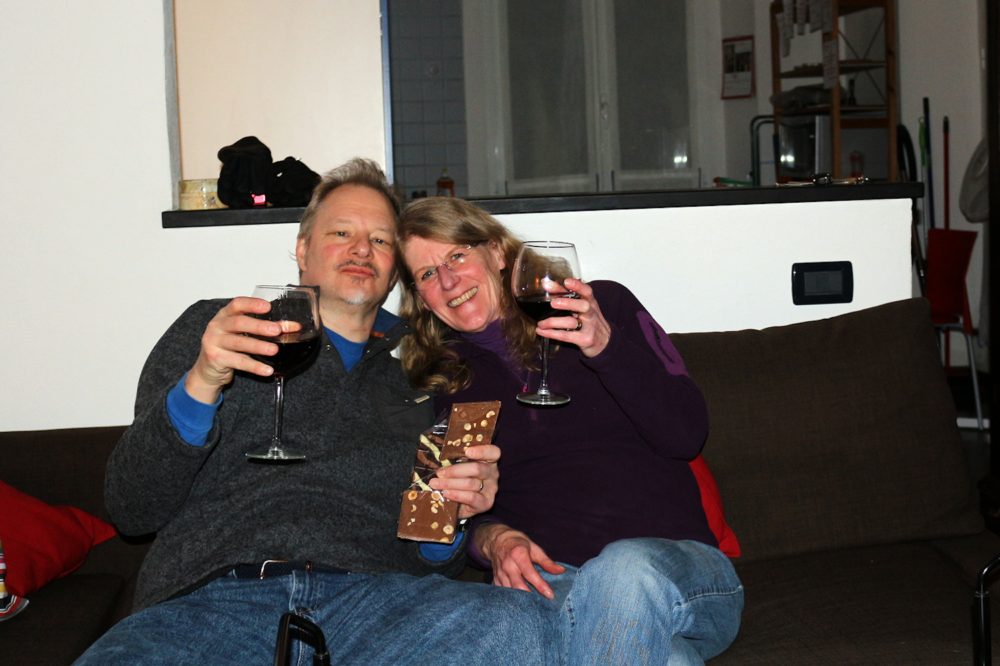 Marty's photo of the day #2753: One shock for Americans visiting countries like Spain and Italy is that you can't always eat when you want to eat. I love that different countries have diverse traditions and cultures. Still, I have to admit to getting frustrated wanting to eat dinner at five or six o'clock and finding all the restaurants closed. For instance, when Deb and I planned our evening to see the Within Temptation concert in Milan, Italy, we hoped to get to the concert hall no later than 7:30 p.m. We would have loved to have eaten a fancy dinner before the show, but we literally couldn't find a restaurant that was open between 2:30 pm and 7:00 pm. We ended up having to grab a sandwich at the bar in our hotel.
But adjusting to different cultures—even if it's just for a week—is part of what makes traveling fun. When Deb and I drove to Genova, we arrived after dark, and our GPS had a hell of a time directing us through the heavy traffic and tricky turns to the parking ramp, where we were to leave our car and walk to the apartment we rented. After finally becoming-un-lost, we had to hike up a long stone stairway that branched off into multiple directions and eventually led to a higher level of the city (seldom, in Italy, could we park near where we stayed). We got lost again and then locked out of the unattended apartment that we were supposed to be able to access via a cell phone code—but our cell phones didn't work in Italy. Fortunately, a friendly local couple rescued us by lending us their cell phone, and then gave us dinner recommendations for the night.
All this leads to this picture of Deb and me in the apartment we worked so hard to reach. When the restaurant our new Italian friends recommended was full, and the staff wouldn't even let us wait for an open table, we—now exhausted—ended up at a tiny market, where we bought a couple bottles of Italian wine, several varieties of cheese, crackers, smoked salmon, and lots and lots of chocolate. We then walked back to our hillside apartment, turned on the music, and enjoyed a delightful evening. Although the day gave us many frustrations, when I think back about it now, I only have fond memories.