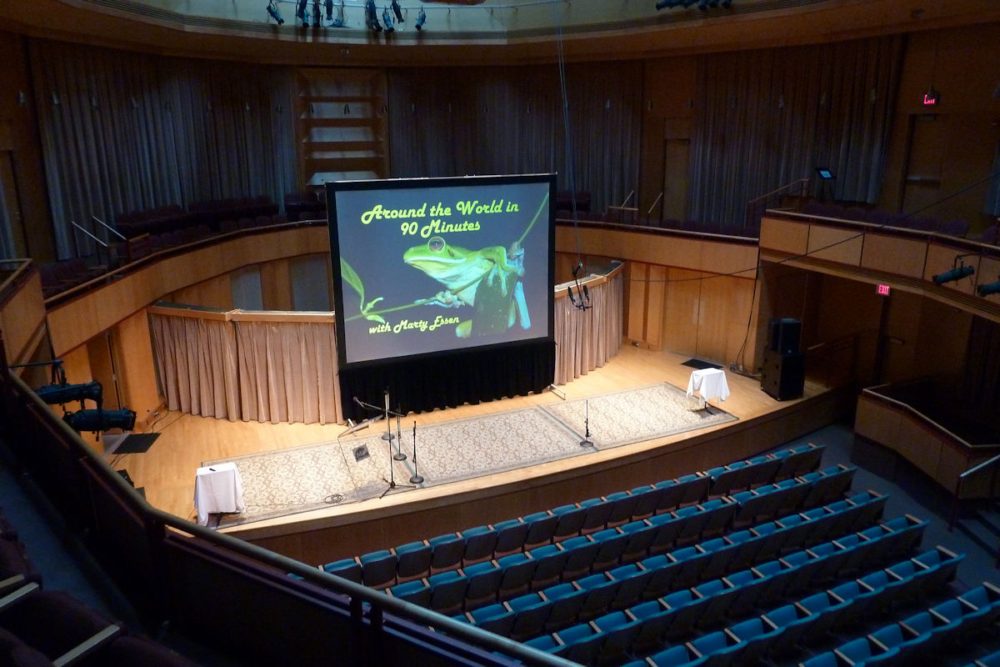 Marty's photo of the day #3683: You are looking at the Weber Music Hall, in the University of Minnesota Duluth. This excerpt from my latest book, Hits, Heathens, and Hippos: Stories from an Agent, Activist, and Adventurer, explains the shot:
My two favorite performances—so far—have been homecoming shows. The closest college to me is the University of Montana in Missoula. It's also the college where my son, Sean, graduated. There I performed a show in the UC Theater, and despite a windstorm a little before show time that was strong enough to toss a trampoline on top of powerlines, I still managed to fill the house.
My other homecoming show was at the University of Minnesota Duluth. There my old college gave me the red carpet treatment. The chancellor, Dr. Lendley Black, held a special preshow dinner for me, which was also attended by Don Ness, the mayor of Duluth, and other local dignitaries. That evening I performed Around the World in 90 Minutes in the Weber Music Hall—a beautiful, almost acoustically perfect, concert hall designed by world famous architect César Pelli. In addition to the chancellor and the mayor, my full-house show included friends and teachers from Open School and people I introduced to you earlier in the book: Vern, Steve, and Luann. And if that wasn't enough, the college rented a luxury car for me and put me up in the penthouse suite at Fitger's Inn (located in a renovated building that used to house the Fitger Brewing Company).
Though I didn't know it at the time, that unique suite and hotel, which sits right on Lake Superior, would later become the setting for one of the most emotional scenes in Time Is Irreverent. Now that I've immortalized Fitger's Inn in that novel, I have to keep my fingers crossed that the hotel will still be there for Marty Mann and Nellie Dixon in 2056.