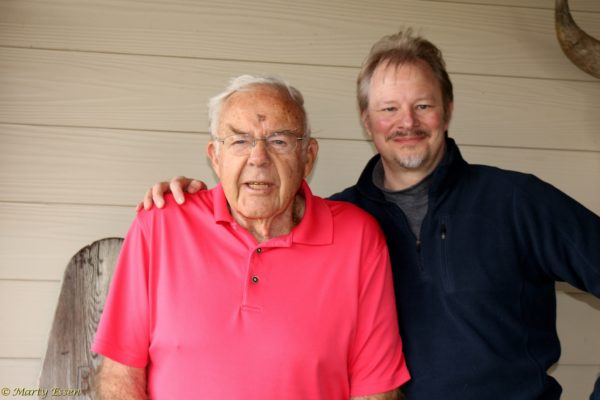 Marty's photo of the day #2519: This is me with the late-great Stewart Brandborg, who died last Saturday. Here's what I wrote about Stewart in my book, Endangered Edens: Exploring the Arctic National Wildlife Refuge, Costa Rica, the Everglades, and Puerto Rico:
Before we move on to the next section of our journey, I want to share with you part of what I read on a U.S. Fish & Wildlife Service poster mounted on a wall inside Waldo Arms:
"It was visionary forester Robert Marshall's controversial 1938 proposal for a 'permanent American frontier' that first opened minds to the idea of preserving some of arctic Alaska on a vast, landscape scale.
"Fifteen years later, National Park Service scientists George Collins and Lowell Sumner explored the eastern Brooks Range. Inspired by its natural values, they published an article that launched the campaign to permanently protect the area: Northeast Arctic: The Last Great Wilderness.
"Wilderness Society President Olaus Murie and his wife Margaret took the lead. They were joined by other prominent conservationists, including scientists Starker Leopold, Frank F. Darling, Sigurd Olson, and Stewart Brandborg, Supreme Court Justice William O. Douglas, and Wilderness Act author Howard Zahniser. The activism of these and thousands of other conservationists through a hard-fought campaign led to establishment of the Arctic Refuge in 1960.
"Few of those who wrote, spoke, and testified for the area's preservation had any notion of journeying to its remote expanses. Then, as now, only a small minority of its supporters planned to backpack, camp, hunt, or raft within it, or even catch a first-hand glimpse of its wildlife or scenery."
If you are interested, you can read the rest of the poster's text at www.fws.gov/refuge/arctic/legacy.html. I have copied the above section here, because it seems like a fitting way to say "thank you" to a group of environmental activists who can never be thanked enough for their efforts. We have major national holidays for various heroic people and organizations in our country, but not one for heroic environmentalists. That's a shame. As for me, I have been fortunate enough to meet two of the people mentioned on the poster: Sigurd Olseon (whom I met when I was an eighth grader in Minnesota) and Stewart Brandborg (with whom I still occasionally converse, as he lives in the same Montana valley that I do).