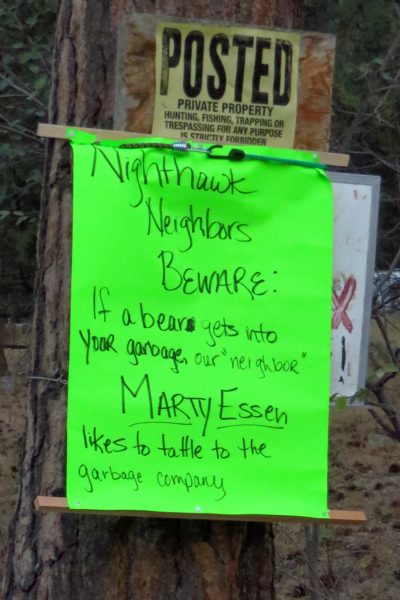 As followers of my posts know: I live in one of the most right-wing areas in conservative Montana. Consequently, it's not the most friendly place for an outspoken liberal to live. One thing I do—both for exercise and to reduce my carbon footprint—is go on a half-hour bike ride each morning to my mail and newspaper box. As I ride, I pick up trash and drop it into the next garbage can I come to.
There is a house along Nighthawk Trail (one of the dirt roads on my journey) that was occupied by a right-wing woman (I know this because she slammed the door in my wife's face when she ran for state senate). Many years ago, I picked up a beer can that someone had dumped at the edge of the right-wing woman's property and tossed it into her garbage can. To make a long story short, the woman charged out of her house, screamed at me, and then called the sheriff and reported me for trespassing and calling her a "bitch."
This same residence has a self-induced bear problem. The owners leave their trash can out during the week and then bears get in to it. The garbage ends up spread all over the road, and the bears ultimately pay the price. After watching this happen several times this year, I finally called the garbage company and reported the repeated trash can bear-baiting.
Then, yesterday, a woman (the daughter of the woman who had called the sheriff on me) called me up screaming because I, "a namby pamby liberal," reported her. As it turns out, the mother is now deceased and the daughter lives in the house. Obviously, the daughter learned much from her mother. As for this photo: this is the sign the woman posted out on Nighthawk Trail for all to see.
I, of course, won't be intimidated and will continue to stand up for the bears. Even so, the woman and her husband own a local locksmith company, which means they can get in to my house anytime they want. Although I doubt they'd do it, their attempt to get the neighbors to blame me every time a bear-baiting incident is reported has also shined a light on themselves, should any unauthorized person enter my house.
Such is life in Montana, among right-wingers.