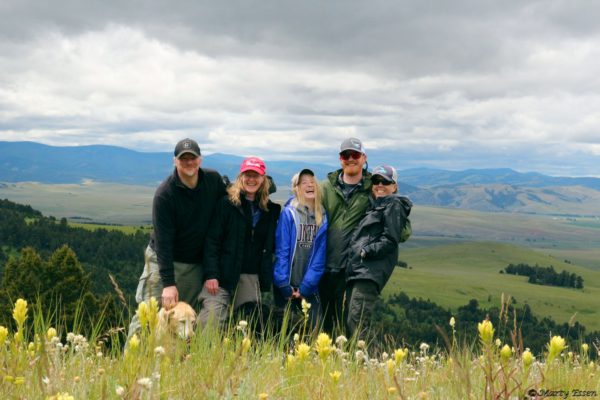 Marty's photo of the day #2220: I didn't post a photo of the day yesterday, as I was Internet free for the weekend. On Saturday, Deb and I took our granddaughter, Fiona, to the Douglas Creek Cabin, which is a Forest Service cabin near Hall, Montana. Then, on Sunday, my son Sean and his wife, Heather, joined us. Since Deb and I moved to Montana, in 1996, we have generally rented a Forest Service cabin once or twice a summer. Some of the cabins are great, and some are not so great (like the one with an attic loft containing a two-inch-deep blanket of dead flies).
The Douglas Creek Cabin goes in the great category. It was remote—so we didn't see anyone else—and the surrounding landscape was stunning. We rode bicycles on the Forest Service road and did lots of hiking. Also, the mountain flowers were in bloom. Deb and Fiona identified 33 species of mountain flowers. I will feature many of those flowers in upcoming Photos of the Day.
As for today's photo: The five of us and our dogs, Bella and Lucy, climbed up the tall hill behind our cabin. It's one of those hills that keeps going and going—and just when you think you've reached the top, another section of the hill appears. From the top, we could see all the way to the towns of Hall and Drummond, more than forty minutes away by automobile.